After leaving Belize City you will travel a short distance (about 30 minutes) to Rainforest Adventure Zone.
Once at the zone, you will start a jungle hike that takes you to the starting point of your rafting tour. The trail meanders along a rainforest path while your guide highlights flora of medicinal and cultural significance. At the entry to the trail there is a crocodile enclosure featuring many Morlett's crocodiles and turtles. Other wildlife likely to be seen include Coati Mundi, Howler monkeys and Tapir. At the river you will board a raft for 8 person or a 2-person kayak and start your leisurely sojourn downstream. The Old
Belize River, also known as River Wallace, reflects many miles of gallery forest teeming with wildlife and a variety of birds. Further along the route are Howler Monkeys, giant iguanas, and even crocodiles may be spotted. Guides will accompany you in kayaks and rafts and assist you in paddling downstream. Small local farms punctuate the gallery forest reflecting village life. About 2 miles downstream, you disembark your rafts and kayaks for a fresh snack. It's now time for "ZipRio" through the jungle and across the rivers of Belize. The zip-line tour features an intricate harness system of pulleys on horizontal traverse cables which lets you glide 100 – 450 feet between platforms up to 75 feet high in the trees at canopy level. After being fitted into the safety harness, the next 30 – 50 minutes are spent zipping through a series of zip line runs from 7 jungle platforms. 4 lines crisscross over the river from bank to bank and the air bridge between platforms 4 and 5 is perfect for a selfie – a truly unforgettable experience!
Experience a spectacular adventure in Belize's unspoiled wilderness!
PLEASE NOTE:
To be able to participate in the Hiking, Rafting or Kayaking & Zip Rio you should read below:
Level of difficulty: Moderate – Participants should be in moderate physical condition with no physical limitations to participate.
What to Bring: Hiking shoes, bug repellent, loose comfortable clothing, sunscreen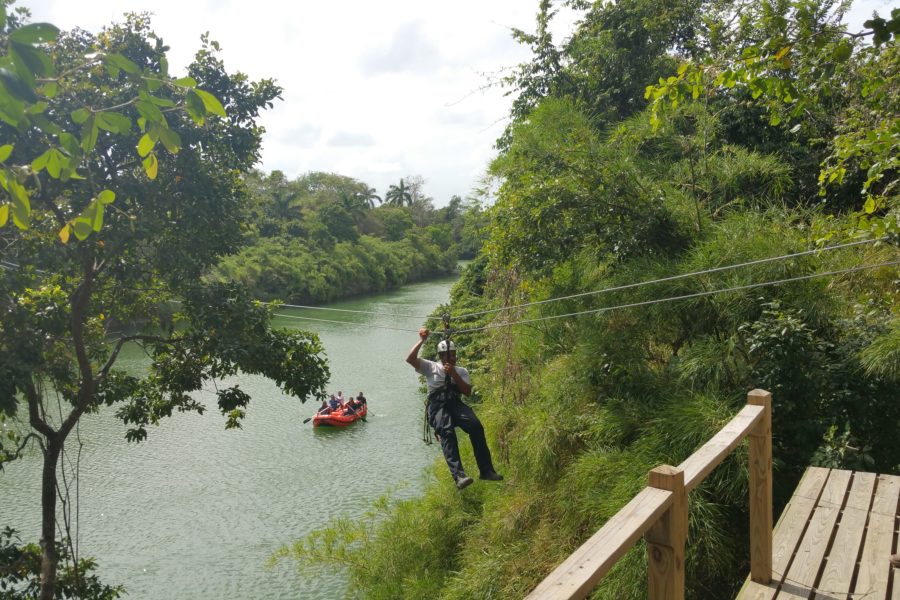 A vacation is nothing without exciting and thrilling adventures all day to do it in.