PART #1:
The howler monkey's wild grunts signal the dawn as the sun breaks through the rainforest foliage spilling into the lagoon. Red-eyed crocs peer out from the water's surface and skulk into the shadows to sleep away the day underneath the tree roots near the lagoon's edge. A stalking green heron scratches at the lily pads looking for a bug to use as bait while fishing for a breakfast of minnows.
It's just the beginning of another beautiful day inside the sprawl of rainforest. My friend and I were getting ready for a boat ride to Lamanai with Lamanai Landings Hotel & Marina – one of Belize's most popular travel archaeological sites.
After a hearty breakfast, we embarked on a small open-faced, single prop motor boat and made our way through the channel and onto the river. With cameras in hand, some of the visitors along the tour started to capture single-frame trophies to add to their collection.
The wildlife Adventure begins:
A spider monkey swinging through the trees coming to our boat for fruits!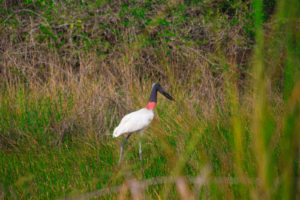 A Jabiru Stork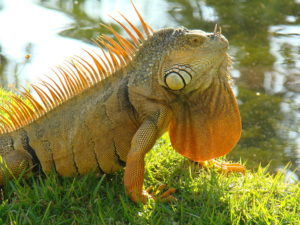 An iguana basking in the sunlight
| | | | | |
| --- | --- | --- | --- | --- |
| | | | | |
| | Camouflage Bats | | Coatimundi Belize | |
A beautiful wild encounter within the first 20 minutes of leaving Lamanai Landings Hotel & Marina signals the beginning of a wonderful day of adventure in Belize!
Part #2: Lamanai Site in Belize –  coming next week!